Arcade Infinity & Friends - Zafo999
Country: USA
Gather 'round, kiddies. It's storytime with Uncle Nerd.
It's not uncommon for the more introverted 20-somethings of today to have fond memories of a local video arcade that they frequented "back in the day". It's no secret that the culture of the video arcade today is something very different than what it was 10, 20, or 30 years ago. Much of the reminiscing you'll hear involves a favorite game or maybe a specific group of people that would always be at their arcade of choice whenever they visited. Then the story ends with some snarky remark about how arcades don't exist anymore because of all these newfangled home consoles/deplorable corporate greed/darn younguns with no appreciation for old things!
I think it's important to take an honest look back at the video arcade experience during it's final hayday, starting with a quote from game designer David Sirlin in an interview with incgamers.com.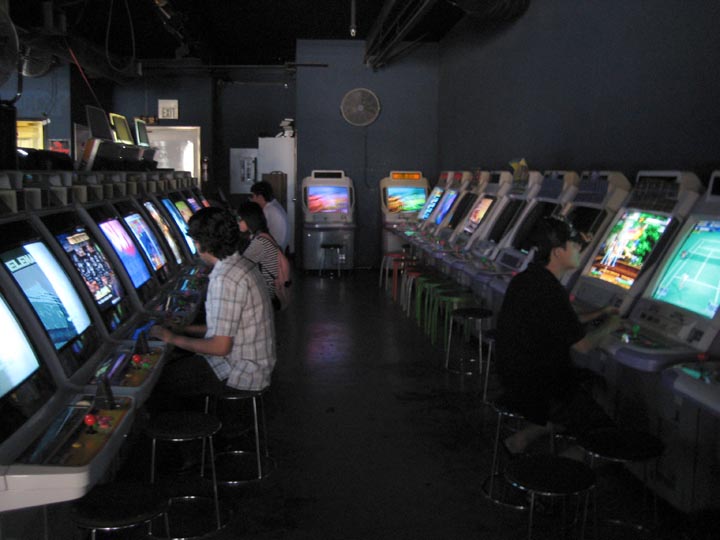 "... arcades also did plenty to kill themselves. The business was based on having more and more expensive hardware that you can't have at home, but home consoles got better and better and starting having pretty amazing graphics themselves. Arcades should have realized they were marketing entirely the wrong thing. Their strength was that they are a social gathering place for gamers, not that they have expensive hardware, and I think it took far, far too many years for most to realize that. By then, their ship had sailed."
Video arcades were commonly operated by some sleazy guy in a mustard-stained tanktop who really didn't care if the change machine ate your dollar, or if the buttons on the Golden Axe machine were covered in an unidentifiable sludge. Arcades were places of passion to the customers, but very rarely to the owners. This is why arcades started to lean more towards being a temporary distraction amongst larger establishments like theme parks, airports, hotels, and family restaurants. Arcades were now "Game Rooms", and the kids who were building a legitimate culture around a social video game scene had to feel even weirder about their already-hard-to-explain-to-mom-and-dad passion.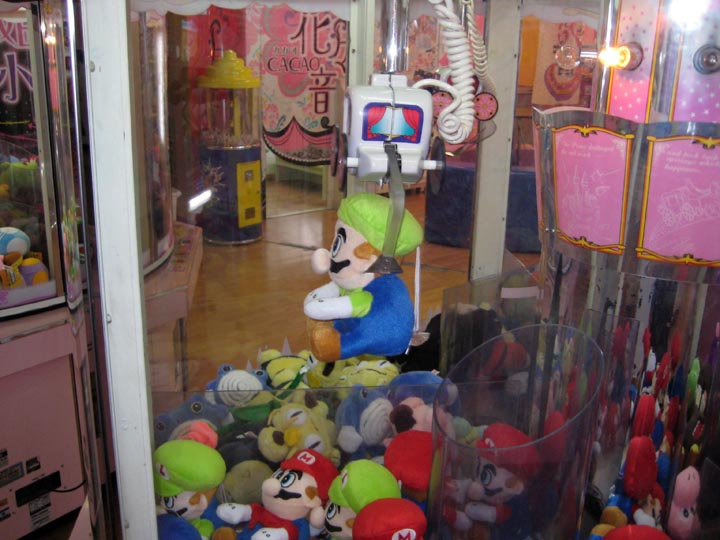 There really is a rainbow of factors that contributed to the decline of the American video arcade, but Sirlin pretty much hit the nail on the head. For an arcade to survive nowadays, it needs to really work to understand and serve a community of geeks. Arcades that enjoy steady business (and that aren't also bars/restaurants) exist in a few areas of the states, one of which is the long-standing Arcade Infinity in Rowland Heights, CA.
I got to visit AI for the first time in September of this year after hearing about it for so long. I have been an avid fighting game enthusiast for a while and knew of AI mostly because of their frequent Street Fighter tournaments. Hidden away on the second floor in the deep dark corners of a strip mall, AI houses several dozen games in a single room of maybe 800 square feet. Anyone familiar with arcade hardware will quickly be impressed not only with the selection of games but also with the condition and maintenance of the equipment. All the machines have high quality Sanwa parts; none of those big dopey plunger-style concave buttons or cheap joysticks. They've got Japanese style ball-top joysticks that handle smooth as butter and responsive, easy-to-tap pushbuttons. There's a
huge selection
of games housed in "candy cabs", a type of Japanese arcade cabinet that you sit at instead of stand at. Some of which have a single game wired to two cabs so if two players play against each other, they've each got their own screen and control panel to themselves.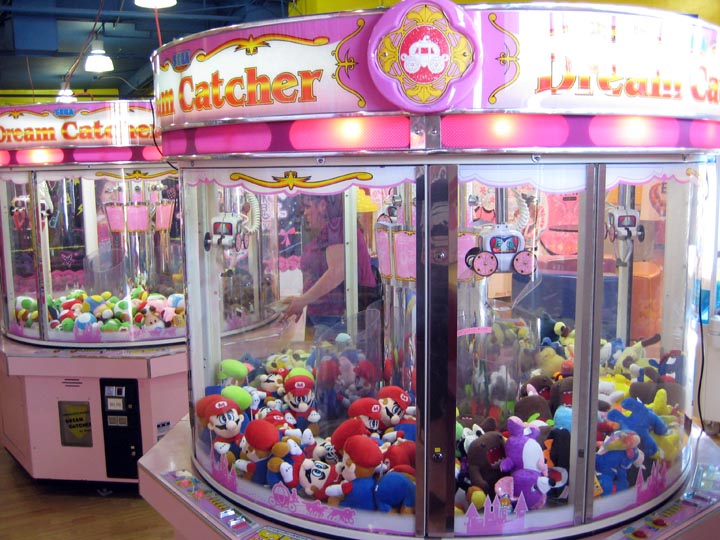 Most games there were either fighting games or rhythm games, two kinds of games with hardcore followings that your local Dave & Busters may not be aware of. The fighting games ranged from popular titles like Street Fighter 2 and Marvel vs Capcom 2, to more obscure titles like Sengoku Basara X and Melty Blood Act Cadenza. I'm no expert on rhythm/dancing games but I'll rattle off a few titles in hopes that they'll excite you: Beatmania III THEFINAL, Crackin' DJ part 2, Para Para Paradise 2nd Mix, DDR Supernova 2. Can I stop now? My point is that these are not the kind of games that the manager of an arcade would ever just guess right about. You've gotta be tuned in to what the community wants, and AI does just that. They know what games the hardcores are excited about and they will make sure they have them and keep them in tip top shape. They aren't looking for random drunk yuppies to walk in and spend 2 dollars riding a fake motorcycle. They are looking for hobbyists to show up every friday after work and enjoy being in an arcade.
My girlfriend was with me when I visited, and it was important for me to get her take on it as well, as she is not a video game enthusiast. Amongst all this talk of an arcade serving a hardcore crowd it would seem a reasonable fear that such a place could be very insular and unfriendly. But considering the games are insanely inexpensive (25 cents a play!), the staff is actually courteous and helpful (!?!?), and they've got games like Tetris, Puzzle Bobble, and House of the Dead 4 that you don't have to be a total freak to get into, it's actually still a place that a normal person can enjoy!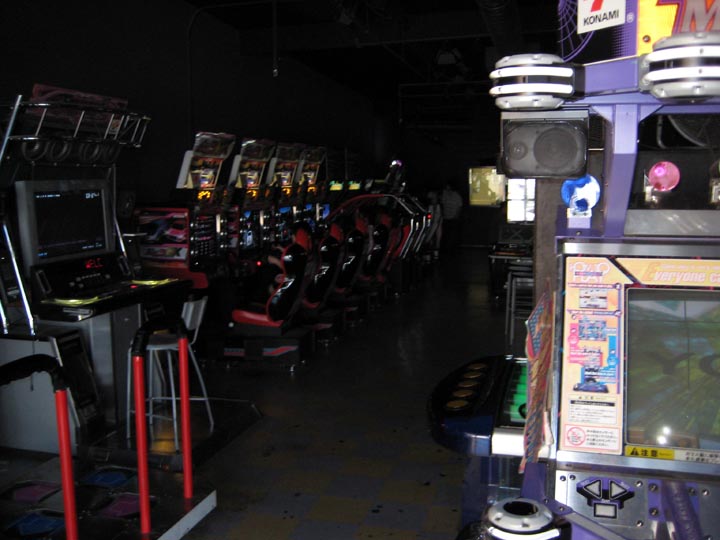 Next door to AI was a separate establishment that I thought was noteworthy and marginally relevant. It was a larger place filled with only crane games and like 20 photo booths. I don't know what you'd call a place like this but I imagine they're very common in Japan. I'm basing that assumption only on the fact that every machine in the place was covered in wildly amusing Engrish. I was skeptical about this place at first, but on a budget of maybe 8 dollars I walked away with a
plush Luigi doll
, and like 30 stickers with pictures of my girlfriend and I on them. These photo booths were unlike any I had ever come across before. These weren't just machines that cranked out some 5-minute novelties. First of all, when you walk into the booth, you can choose from dozens of music to be played during your photo shoot, and you can choose from multiple camera angles. You can have tons of pictures taken and then sort through them to pick the ones you want printed. After you do that, you exit the booth and move to a separate screen on the backside of the machine. At this point you and a friend can pick up lightpens and go through your photos, adjusting brightness and contrast, adding clipart, drawing mustaches, and writing curse words all over them. The whole process kept us entertained for a full 20 minutes! These photo booths were serious business! I will never again underestimate the power of
Twinkle Berry
.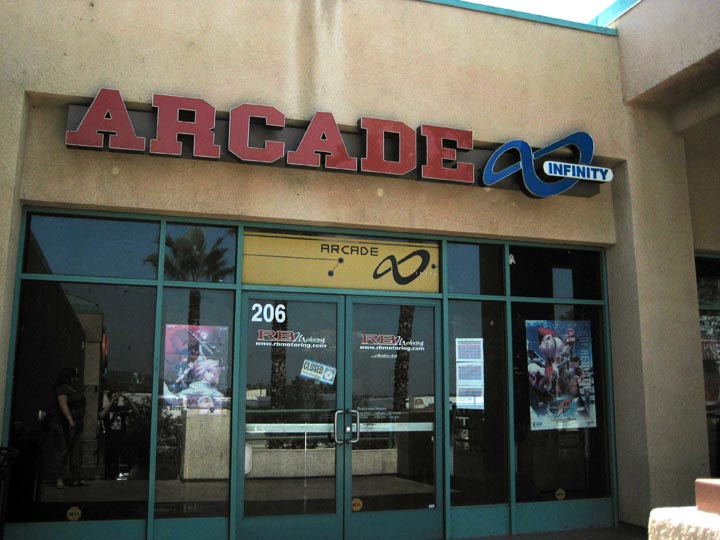 It feels good to know that there are still places like AI around. Growing up in Rhode Island, I was far from spoiled when it came to available arcades so you'll have to excuse my romanticizing. I've read a few blogs and yelp reviews from LA locals saying things like AI is too far away at a 30 minute drive and that it doesn't doesn't have enough fighting games. I can't help but laugh. They don't know how good they have it.
www.arcadeinfinity.blogspot.com
Tags:
Trips