Alien Invasion Arizona [2005] - Alex
aka. The Salena Incident
Director:
Dustin Rikert
Starring:
Dan Southworth
Avery Clyde
Sam McConkey
Country: USA
You can tell by the cover, that this movie was trying very hard to appear like a genuine alien movie. The words 'Invasion Arizona' were printed ever so tiny, it was easy to miss. But such is the work of b-movies, and luckily our trained eyes can spot these, and in turn specifically pick them up rather than accidentally.
We start out with possibly something to do with Aliens, but if that happened, it was irrelevant as most pre-story elements are. Instead we'll turn to the main plot which revolves around a transfer of death row inmates and the security crew assigned to get them to their destination. The inmates comprise the various stereotypes you would expect such as skinhead, black guy, Latin guy and Italian leader. The crew is made up of a rookie, a veteran and the nurse who is keeping up with the Nazi's shots. She also happens to have a DNA analyzer, which one wonders if it will come in handy later in the movie. Time will tell!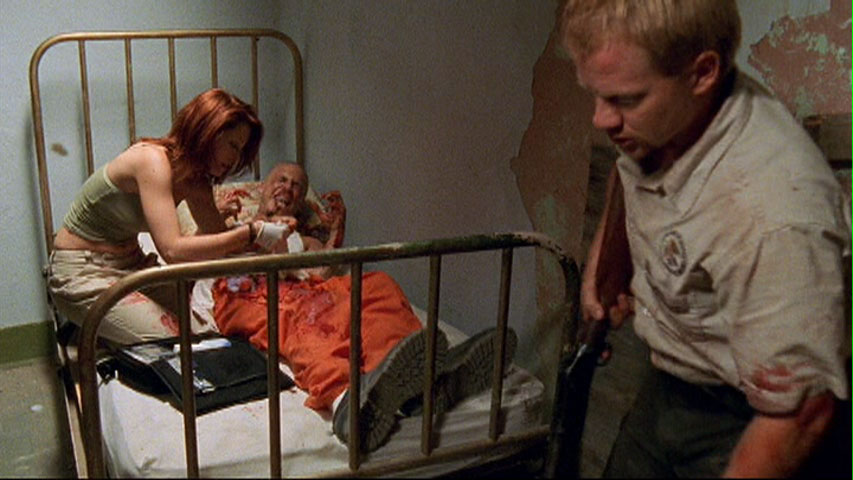 After stopping to help two girls with a flat tire, which I'm sure is standard protocol when transporting convicted felons, the girls draw guns and help the inmates escape. It was a trap you see. After a sneaky attempt and moving, the bus driver is shot along with the veteran security guard, leaving the other two to be hostages. The black guy and Nazi don't really get along either, but the said DNA device will change all that later.
After finding a town where the Italian guy is supposed to meet his brother and escape, they see that everyone is gone. This raised some suspicions since everything else is in place. It's only a matter of time before creatures with no predetermined consistency show up and start their rascally killing. They kill off the people with the least speaking lines first naturally but just wound the Nazi. This leads to the need for an emergency blood transfusion, and this is where the DNA machine comes in. You see, only the black person is a good blood match for the Nazi, but he doesn't want his blood mingled. What a dilemma. Oh yeah, they test the alien blood and find it has a bunch of extra amino acids or something, but that's not really important right now.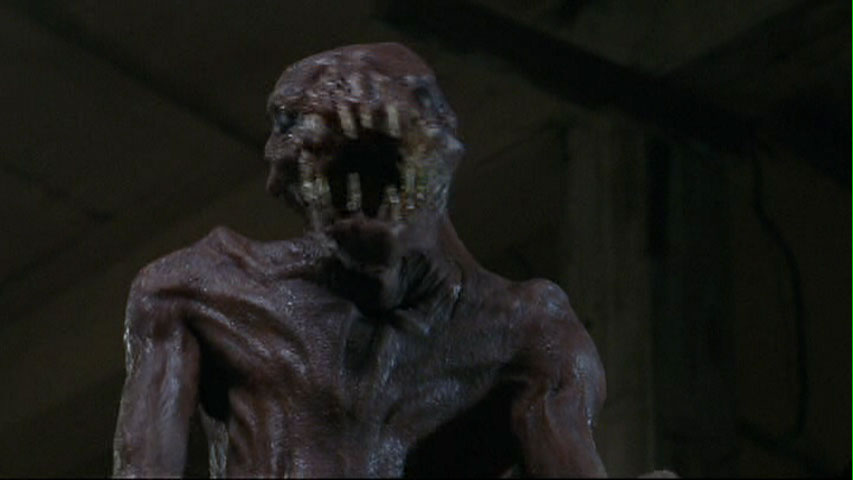 Slowly a few more people die off and then we get to see an alien, who fortunately for us, is made from rubber and conduit piping. Then later on we see the bigger boss aliens followed by a meaningful scene in the basement that forms an analogy to the prison transport scenario and the reason for the aliens being there.
That said, it flows fairly well. Despite being a cheesy SciFi flick, it keeps you watching and the aliens aren't all that bad. You have to stretch it a bit to overlook some facts, but that's no matter. It's all about just getting along as a race, because once aliens land, we'll have to fight together to kill them.
Tags:
Aliens
Monsters
Sci-fi