Monuments of Mars [1991] - Dann
Director:
Scenerio Software
This is another game that came out around the same time as Commander Keen. While I feel like it came out after, it took a step backwards into CGA graphics. An odd observation is that the enemies seems similar to Keen, taking place on Mars and all. The two-eyed Gargs return and the robots look similar, but they were archetypal.
Unlike Keen, the levels didn't scroll, but that was a breakthrough for PC gaming at the time. Instead each screen is a 'level', and you need to progress through all 20 finding the key(s), and getting to the next. Puzzles consist of jumping moving platforms, flipping switches, and avoiding the nasties.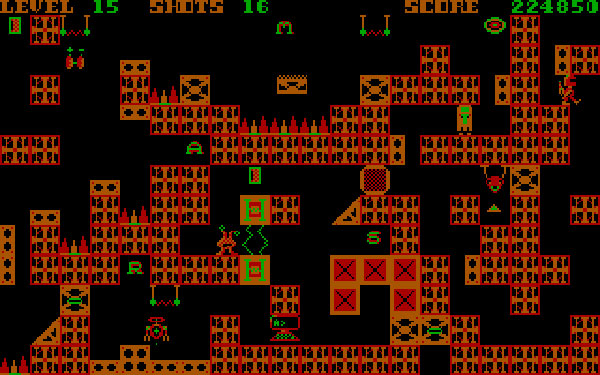 At the time, I think I saw this game in a software catalog, where you could order shareware games at the bargin price of $5 per floppy disc. Although I was able to convince my friend to download this off the BBS for free, I did end up getting a few items from this catalog. On a side note when Doom came out, it took up four discs, thus costing $20. You could buy the full version for nearly the same price. I think at this point the business model started to fail.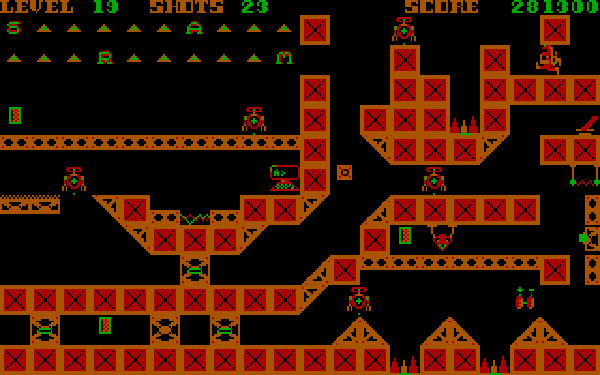 For difficulty, the game isn't too bad. Everything is a one-hit kill, but you simply restart the level with the same stats and keep trying. So really the hardest part is just getting through some of the puzzles. To it's credit there were some very rudimentary physics when it came to the pushable boxes. In some cases getting them in the right spot involved good timing and precise movement. Another semi-challenge involves conserving ammo. Shooting every enemy will deplete you rather quickly, and some ammo is needed for critical buttons. Avoiding enemies is not too difficult, but as stated, important. Once you avoid enough, you will most likely end the game with plenty to spare, but there is that pitfall earlier on.
I remember taking forever to beat the game when I was young, but was able to beat it in a short span when playing it recently. Since Apogee has re-released the full versions for free, all 4 episodes are now able to be downloaded without charge. The latter games seem to have increased the difficulty, and I've yet to get into them. However the graphical style seems to have remained the same. Overall it's a nice blast from the past and worth checking out if you are a fan of old platform games.