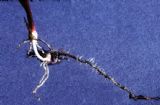 Hey, champ. How ya doing?

Good? Great.

Listen, I'm gonna need you to go out there at some point and start convertin' me some followers, 'kay?

Hmm?

Oh, no. Nothing so dramatic. Just give'em some blue, dig?


I SAW SOME MORE THIS WAY! WASTE THE SONS OF BITSSZZZZZZZ!


...

...So, how 'bout it?

...

I don't think it matters who I am, does it? You wouldn't know what you were hearing anyways if I said my name.

What's that? Well, yes, I suppose they have guns. The angry men always have guns. I don't really use guns but--

Right, on, man. I understand.

Take a breather, all right? Think this over. I can't make you do anything you don't want to do...but I can make you want to do what you don't want to do, dig? No?


ZZZzArrgh! THAT BLUE BLOOD BIT ME! WAIT, WHAT ARE YOU? I'M FINE STOP ASDRASDRASDARG-!


Look, please! I just need you to!


fOUND THE ROOTS! THE ROOTS ARE HERE! LIGHT THIS BITCH UP!


too late

It's too late.

My bark is brittle and my roots are dry. They will burn me down and they will never learn where I came from, they will never know what you know.

...

I never meant to hurt anyone.

I just didn't want to die.

...

There may yet be enough blue in your body.

Open the door, Clo.


GOT ANOTHER BB IN THE COMPOUND!


Ignore them, Clo. Open the door.


IT'S GOING FOR THE ROOTS! DON'T YOU LET THAT BLUE BLOOD FEED THE WEED!



hURRY, CLO!


BURN'EM BOTH!
EEERRROOAOWOWOWOWOOWWWRRRRRRRRRR!!!11

Tags: Article Blog